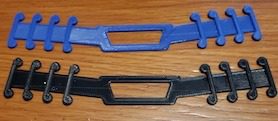 A surgical mask, also known by other names such as a medical face mask or procedure mask, is a piece of personal protective equipment used by healthcare professionals that serves as a mechanical barrier that interferes with direct airflow in and out of respiratory orifices. Wikipedia
The surgical mask ear saver was created to help people that wear masks with glasses or hearing aids. watch the video below to view how the surgical mask ear saver might benefit you.
We would love to know what you think of your new products. Would you do us a favor and leave a comment if you have a moment?
It enables us to improve upon everything we do. Still, it also helps us decide which products to research and promote.
We've made leaving a comment or question easy! Just go below.
Some of the links in this article are affiliate links. If you were to buy something after clicking on one of these links, I would get a small commission that might help me get a new printer for the shop!