CREALITY Ender 5 S1 Is Way Reliable And Affordable
The CREALITY Ender 5 S1 is an affordable, reliable 3D printer ideal for more experienced hobbyists, tinkerers, and educators. It features a heated aluminum print bed. And a comprehensive array of features designed to help you get the most out of your 3D printing experience.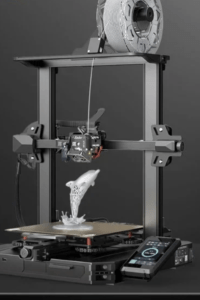 With a simple assembly process, robust construction from durable materials, and a responsive customer support team, the CREALITY Ender 5 S1 is ideal for those who want a reliable 3D printer without breaking the bank. We are delighted with the performance of the Ender 5 S1, and we highly recommend it to anyone who is in the market for a 3D printer. Creality US STORE: 50% Off Sale for Students Only
The CREALITY Ender 5 S1 is an innovative 3D printer designed to make the 3D printing process easier and more efficient. It features a large build volume, making it perfect for large-scale projects.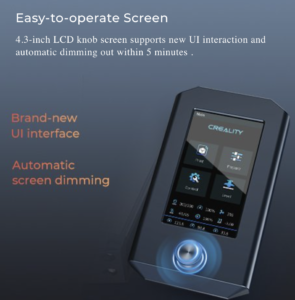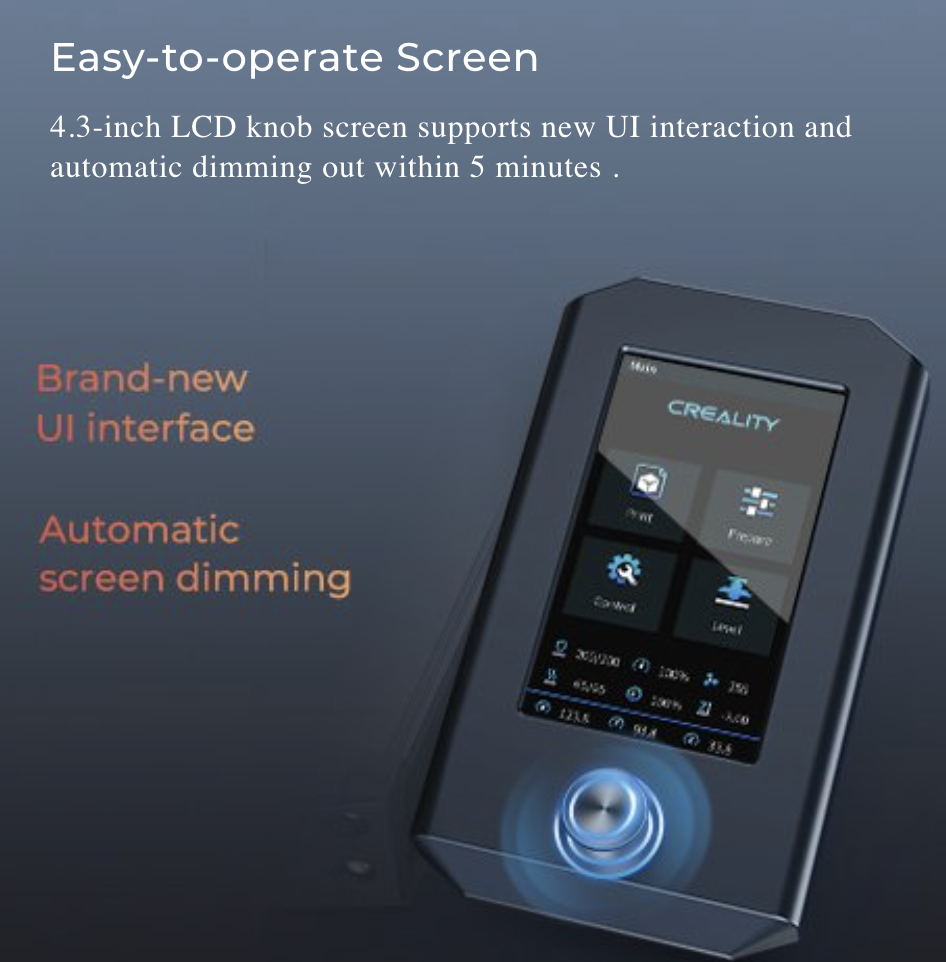 The printer also features a high-precision dual Y-axis structure, allowing it to produce higher-quality prints in a shorter amount of time. It is equipped with an easy-to-use touchscreen interface, allowing users to navigate through the printing process easier.
Upgraded motion system for 2000mm/s² acceleration and up to 250mm/s (5 times) printing speed*. Feel the speed and passion of 3D printing now.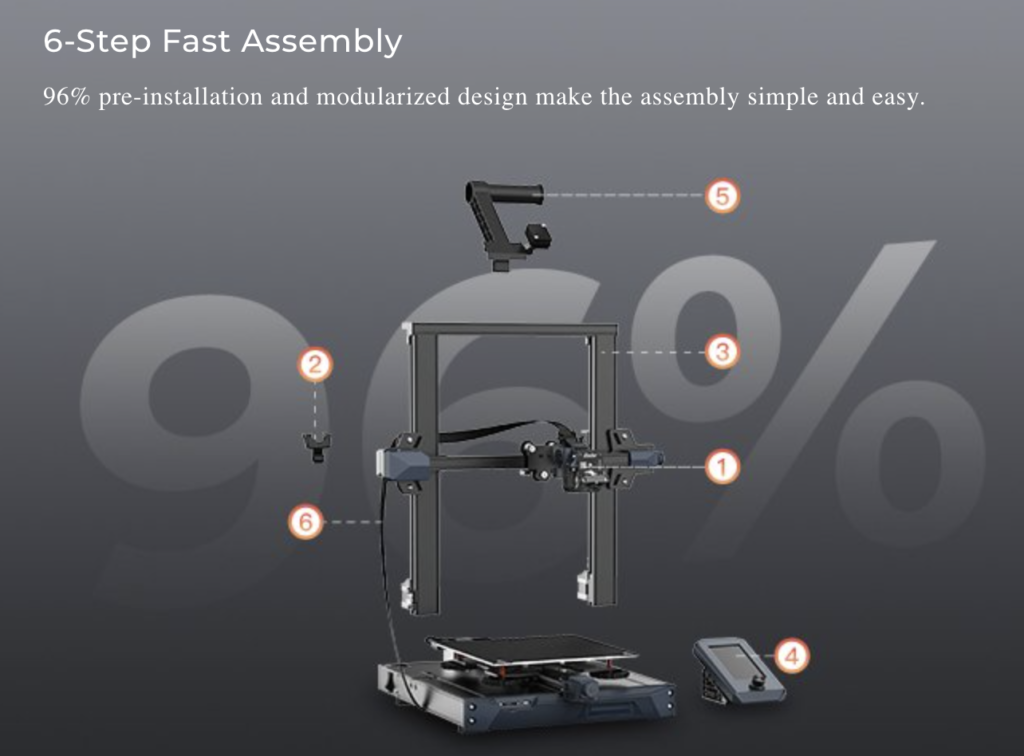 Speedy at Realizing Creative Ideas
Higher Efficiency and More Eco-friendly
 Stand Firmly to Print Quality Models
 Direct Extrusion Adapted to Flexible Filaments
 Hotend Upgrade for High-temp Printing
 Get a Cool Model Promptly
 Explore with High-temp Filaments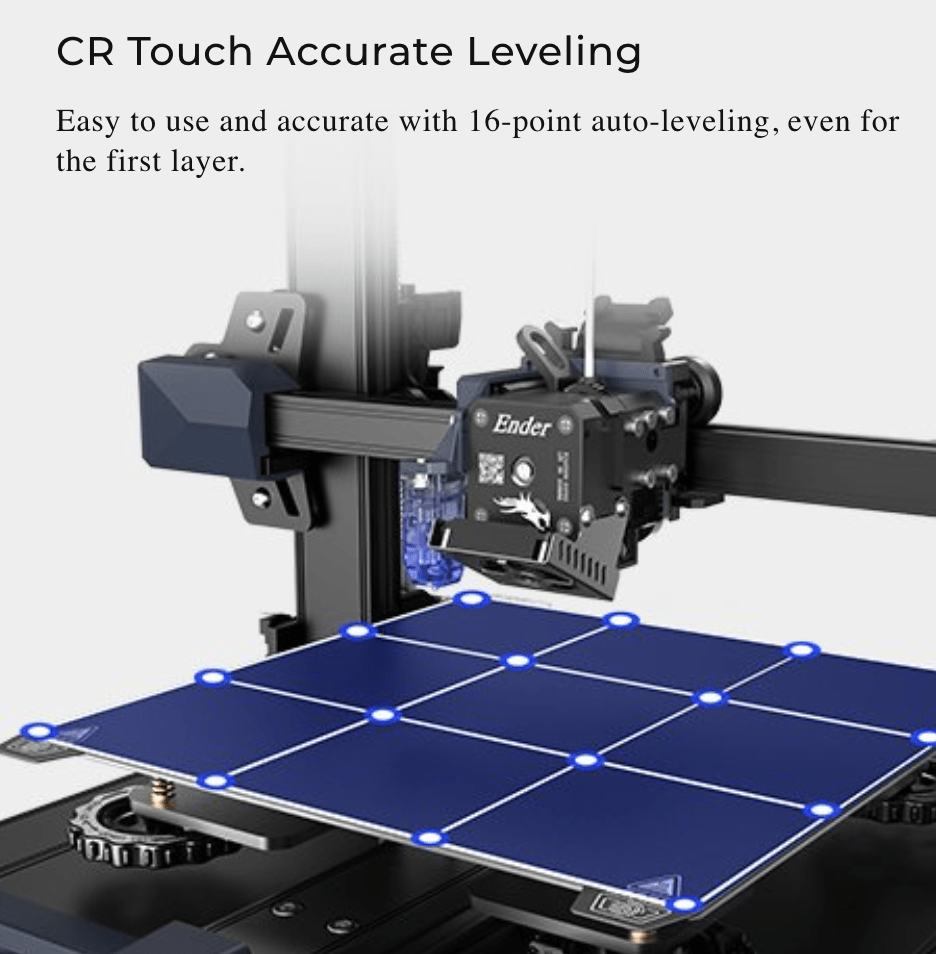 Quicker Expert-Level Calibration
 Straightforward Touch Screen UI
 Print in Multiple Ways
Build Volume: 220*220*280mm
Product Dimensions: 425*460*570mm
Package Dimensions: 528*474*340mm
Net Weight: 12.1kgGross 
Weight: 14.7kg
Extruder Type: "Sprite" dual-gear direct drive extruder
Extruder Material: All metalLeveling 
CR Touch auto-leveling
Nozzle Type: Brass nozzle x1
Nozzle Diameter: Standard 0.4mm
Printing Accuracy: ±0.1mm
Layer Height: 0.05-0.35mm
Filament Diameter: 1.75mm
Nozzle Temperature: ≤300°C
Heatbed Temperature: ≤110°C
Build Surface: PC spring steel sheet
Power Loss Recovery: Yes
Filament Run-out Sensor: Yes
Rated Voltage: 100-120V~, 200-240V~, 50/60Hz
Rated Power: 350W
File Transfer: Memory card, USB Type-C cable
File Formats: STL, OBJ, AMF
Supported Filaments: PLA, PETG, ABS, TPU, PC, ASA, HIPS
Slicing Software: Creality Slicer, Creality Print, Cura, Repetier-Host, Simplify3
DUI Languages: English, Spanish, German, French, Russian, Portuguese, Italian, Turkish, Chinese
It also includes a filament run-out detection system which will automatically pause the printing process once the filament runs out. The Ender 5 S1 also consists of a resume printing function that will pick up where it left off in case of power failure or other unexpected interruptions. The Creality Ender 5 S1 features an all-metal frame design and an aluminum print bed, making it more durable and stable than other 3D printers. Only $99 for LD-002H Resin 3D Printer
Conclusion,
Are you in search of a reliable 3D printer? Look no further! The CREALITY Ender 5 S1 is here!
This 3D printer is perfect for various projects and is renowned for its outstanding print quality, reliability, and ease of use. The Ender 5 S1 uses a large build volume, allowing you to create more significant projects than ever before!
The CREALITY Ender 5 S1 has everything you need to get started: a detachable magnetic build platform, a powerful extruder, and a fully enclosed chassis. This 3D printer also features high-precision laser engraving, intelligent filament detection, and a power-loss resume system.
What are you waiting for? Get the Creality Ender 5 S1 today and start unleashing your creativity!
Thanks,
Bullwinkle